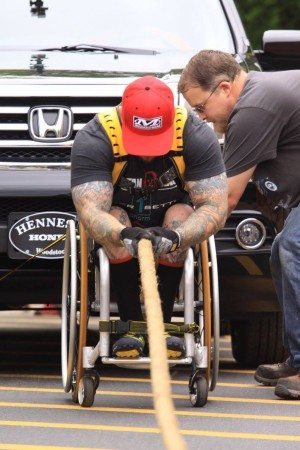 Every day people amaze us, and this past weekend, it was our good friend & Bert's Big Adventure supporter, Michael Mills.
At the age of 16, Michael was hit head-on by a drunk driver, leaving him paralyzed. He was actually pronounced dead at the scene – and WAS dead for 28 minutes – before a crash witness begged paramedics to try to revive him one more time…and it worked…but he was wheelchair bound, for life.
But that didn't stop him.
Michael is a T-12 paraplegic who was the first ever paralyzed person to complete a Spartan Race. And this weekend, he defied the odds again…by setting TWO WORLD RECORDS.
This past weekend, Michael towed a 4,780-pound SUV in his wheelchair 100 meters and set TWO records – a Guinness World Records​ and one for RecordSetter​ – for "Heaviest Vehicle Pull By A Single Person In A Wheelchair For 100 Meters," all to raise money & awareness for Bert's Big Adventure!
If that doesn't inspire you to go out and take on your hardest challenge, we don't know what will!
You can read more about Michael's story here and here, donate to his fundraising for Bert's Big Adventure here, and follow him on Twitter and find his page on Facebook.
Everyone cheering: