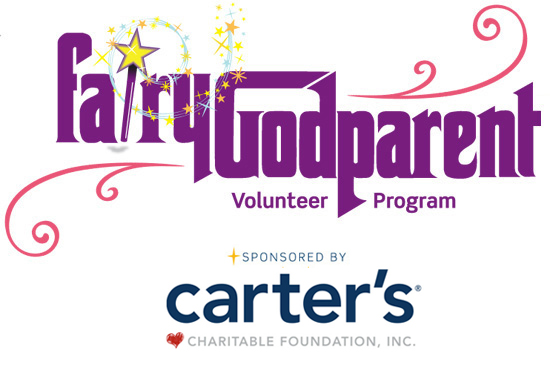 Every Bert's Big Adventure family deserves a Fairy Godparent!
What began in 2003 as a magical trip to Walt Disney World for six families now provides year-round support programs and four family reunions for our children with chronic and/or terminal illnesses and their family members. Bert's Big Adventure, founded by Bert Weiss of The Bert Show, has grown over the last 17 years into one of the top children's organizations in metro Atlanta. In 2010, the Fairy Godparent Program was started in order to support the families while they are admitted to a partner hospital.
The Fairy Godparent volunteer program, sponsored by Carter's Charitable Foundation, allows Bert's Big Adventure families to be visited on a daily basis when their child is admitted to a partner hospital. A team has been put into place so that when the organization is notified that a child has been admitted, the Program Manager will schedule volunteer visits throughout the child's stay. Bert's Big Adventure provides each volunteer with financial resources so that gifts, necessities and food may be provided on each visit.
Over the last ten years, the Fairy Godparent volunteers have logged over 295 hours of hospital time visiting with Bert's Big Adventure kids and their families. There have been nearly 2,200 volunteer visits from over 100 volunteers. By our estimation that is hundreds of nails painted, countless lego sets and a lot of coloring books.
With a wave of their magic wands, the volunteers of the Fairy Godparent program provide much-needed support and companionship to the families of children who are facing insurmountable odds.
Fairy Godparent Volunteer Program Mission:
The Bert's Big Adventure Fairy Godparent volunteer program supports the organization's families when a Bert's Big Adventure child is admitted to a partner hospital. The Fairy Godparent volunteers visit the children daily and provide magical moments during a trying time.
Photos From Recent Visits
Bert's Big Adventure Fairy Godparent volunteer requirements include the following:
Volunteers must be 21 years of age or older.
Volunteers must complete and pass the Bert's Big Adventure volunteer background check.
Volunteers must pay a small application fee ($20). This fee covers the cost of the required background check.
Volunteers must receive annual influenza vaccinations and provide proof of vaccination to the Volunteer Services Manager.
Volunteers must agree to provide volunteer services for a minimum of one year, and a minimum of one visit per month. (Visits typically require a 2-3 hour time commitment and are scheduled based on volunteer availabilty.)
Volunteers must adhere to Bert's Big Adventure policies and procedures.
Volunteers must complete the Bert's Big Adventure application and training process.