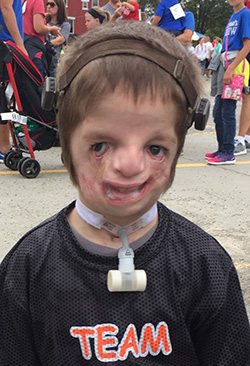 Age: 5
Hometown: Rising Sun, IN
No diagnosis. Cranial Facial Anomalies and Hip Dysplasia

Favorite Disney Character: Mickey Mouse and Handy Manny
Favorite Disney Celebrity: I don't know yet!
Favorite Singer or Band: None
Favorite Song: Mickey Mouse Song
Favorite Food: Ice Cream
Favorite TV Show: Mickey Mouse and Handy Manny
Favorite Movie: Cars
Favorite Color: None
Favorite sport/hobby: Playing with cars, trucks and tractors
"The Bert Show" member you want to take on a ride at Walt Disney World: Bert
Souvenir I would take back from Walt Disney World: Anything that has wheels on it!
When grow up I want to be: Firefighter
I'm looking forward to: Everything!
What first time experiences will you have on this trip? This will be Hunter's first time flying and everyone's first time at Disney World!!