Our 2017 Wish List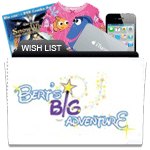 We offer two sets of donation options for the Bert's Big Adventure Wish List.
Option 1 – Cover The Cost: Make a monetary donation to cover the cost of specific, personalized items that we've already chosen.
Option2 – Purchase or Collect Items: Purchase and/or collect the items yourself.
Scroll down to see our needs and then fill out the contact form below the 2016 Wish List to let us know what you have in mind! You may chose to fulfill some, or all, of each request. No donation is too small.
Do you have something you'd like to donate but you don't see it on our lists? That's great! Just send an email to sarahr@bertsbigadventure.org and your questions will be answer in a timely manner. Thank you for your support!