Carmen Munoz, mother of Alex Munoz, a 12-year-old 2019 Bert's Big Adventure child, has experienced many hardships within her time as a mother of Alex, and her firstborn daughter, Annias. Throughout everything, she has remained a steadfast beacon of inspiration with her upbeat attitude and unwavering spirit of gratitude.
When Carmen became pregnant with Alex, her then 4-year-old daughter Annias was undergoing chemotherapy for her diagnosis of Leukemia. Along with having to endure Annias' diagnosis and treatments throughout her pregnancy, Alex was born with an undiagnosed rare condition. Once again, Carmen had to cope with entering another complex and frightening world of medicine, with new questions and new routines.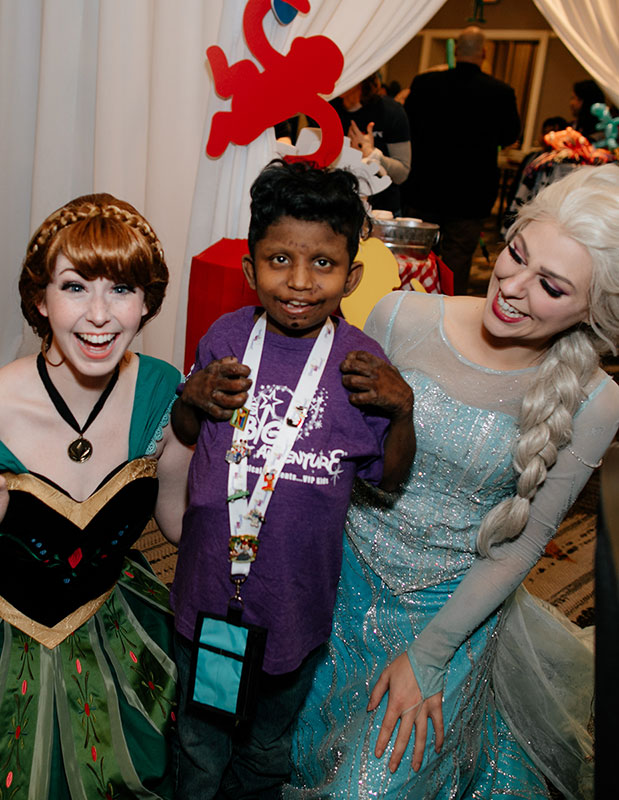 Alex's diagnosis of Arthrogryposis-renal dysfunction-cholestasis (ARC) syndrome was rendered after multiple rounds of testing by many different doctors and hospitals. Unfortunately, there is no cure for ARC syndrome and according to Alex's doctors, he is the only person who has been diagnosed to live past 2. Along with ARC syndrome, Alex has Gray platelet syndrome and profound hearing loss. He is truly an incredible young man.
One of the symptoms Alex experiences from ARC syndrome is a skin disorder where his body overproduces skin. Due to the stiffness of a large amount of excess skin, Alex's ability to move around is impaired. To ensure Alex can remain mobile, Carmen must scrape the excess skin off Alex, which is incredibly painful. Even though it is difficult for Carmen to see Alex in pain, she knows that it will allow him to walk and play. Alex loves watching and playing baseball and Carmen encourages him to engage in outdoor activities that bring him joy.
A couple of years ago, when Carmen was informed that Alex would need a liver transplant, she underwent several tests to see if she would make a good match for him. Through these tests, doctors discovered that Carmen had breast cancer. Notably, when we talked to Carmen about how difficult this news must have been to hear, she only remarked how grateful she was for Alex. She said that without his need for a liver transplant, it's incredibly likely that her cancer would have gone undiagnosed. She underwent chemotherapy with her signature optimism. From then on Carmen had to fight not only for her children but for herself.
When Bert's Big Adventure had the chance to speak with Carmen, we were amazed at how she handles all situations with positivity, saying "Your love as a mother is selfish because you want your kid with you no matter what condition they are in. So when you learn to let it go and let God work his miracles, he's going to answer in the way you were expecting or in a different way, and you have to be able to accept what God has decided."
Though Alex is still fighting daily with ARC syndrome, Annias and Carmen are in remission. Alex, Carmen and Annais together make one tough family based on their combined diagnoses. They are lovingly supported by Carmen's husband, Domingo, and Carmen's mother and father, Carmen and Carlos.
When our dear friends at Gas South heard about Alex, they immediately knew they wanted to do something extra special for this amazing family. Their goal was to find a way to get them away from the not-so-fun moments during doctors' visits and hospital stays and give them a well-deserved break to disconnect and relax. So a vacation on the high seas was dreamed up! Thanks to the extreme generosity of Gas South, Alex and his family, will be flying down to Florida and sailing away on a 4-night Disney Cruise later this year!
Another big thank you to Jamie Townsend of Wishdrawals, a Disney vacation planning agency that will be donating their services to help the Munoz family plan their dream Disney vacation! Bert's Big Adventure is so grateful for the graciousness of our sponsors for helping us to create magical moments for the families that we serve!