When we started our conversations with Bert's Big Adventure 2019 child Peyton, we immediately learned that there are times that he feels confined and limited on what he is able to do because he is in a wheelchair. When asked if there was something that could bring Peyton pure joy, his parents quickly stated, "a way for him to be able to play with his siblings and friends and to help his dad feed the family's animals."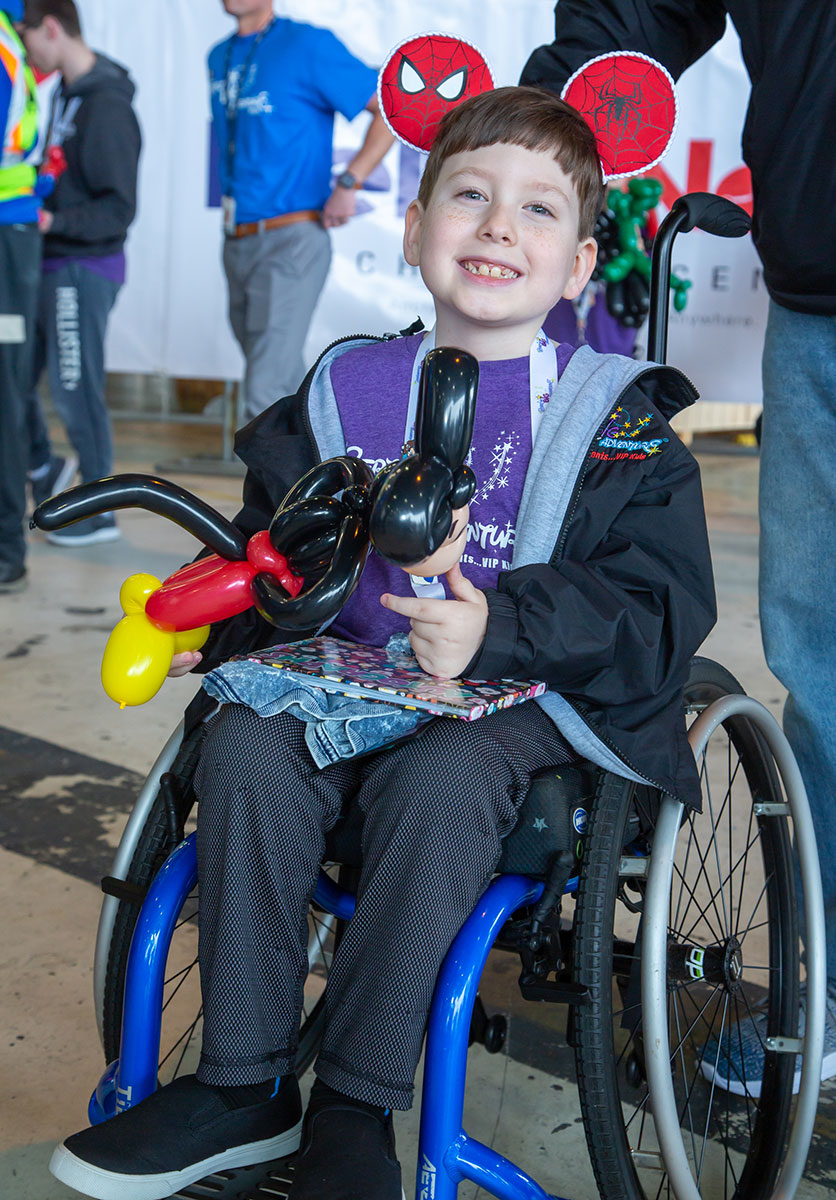 One year ago, Peyton was diagnosed with Spinal Muscular Atrophy Type II. However, let's back a bit because Peyton and his family walked a long road to receive this diagnosis. Up until Peyton was one he was deemed a healthy baby, but then he suddenly started to regress. His parents, Melanie and Todd, took Peyton in for genetic testing, to physical therapy,  to so many doctors appointments with specialists, and so much more in search of the answer to his regression and with a goal of finding a diagnosis that would lead to a treatment plan. Finally and after six long years, they received a name for Peyton's disorder, Spinal Muscular Atrophy Type II. Peyton is wheelchair bound and as such he is limited on the activities that he can participate in fully. He is a true champ though and although, he has endured several surgeries on his legs and his back with the goal of helping his muscle atrophy, he is an amazing kiddo.
When the staff at Bert's Big Adventure learned about Peyton's wishes – for physical freedom, to be able to play with his friends and to be the "goat whisperer" of his family's farm – we knew that we needed to do anything that we could to help those dreams become a reality! Here is where our our friends come in! Mountain Motorsports is one of the world's leading brands of motorcycles, ATV's, utility vehicles and personal watercrafts. Two of our sponsors, Mike Feldberg from The Color Spot and Mike Wilson of Eco Tech Carpet Care, are longtime friends of the team at Mountain Motorsports and immediately got to work connecting us. Within a day of hearing Peyton's story, Robert Ross, Vice President of Mountain Motorsports, reached out to Bert's Big Adventure  and wanted to be a part of this surprise. We were ecstatic!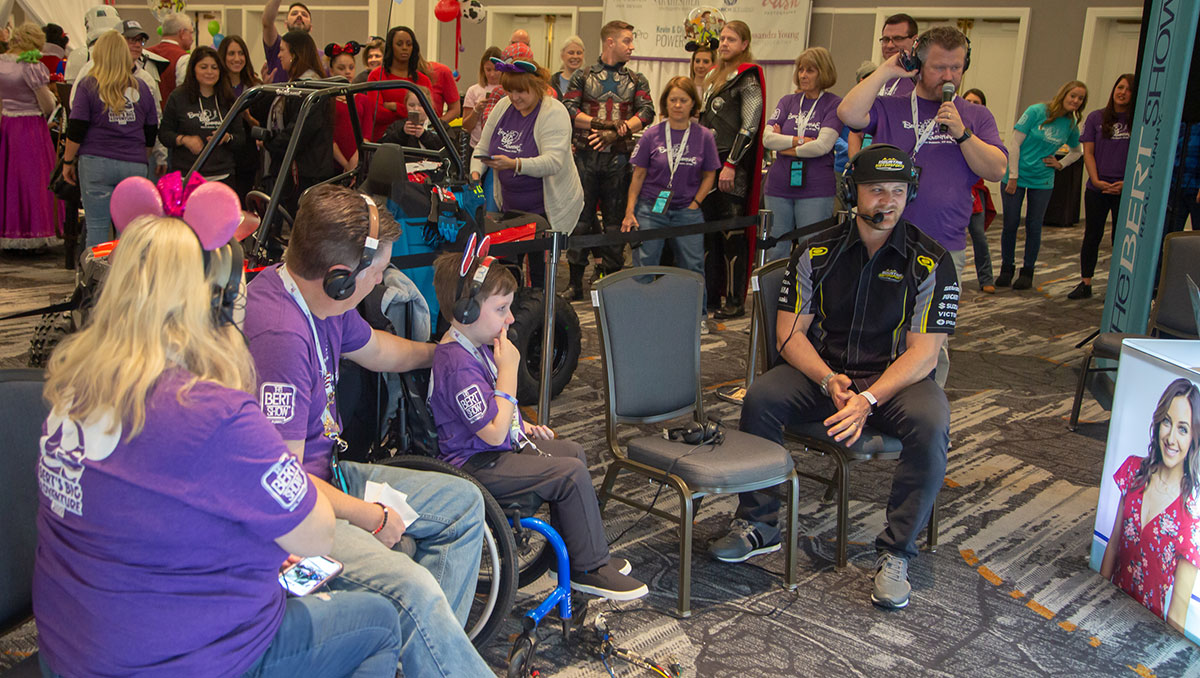 Robert and Justin Price, co-founders of Mountain Motorsports, shocked sweet Peyton with the news that he would be receiving a Polaris ACE 150 EFI during The Bert Show broadcast at Bert's Big Adventure's 2019 send-off celebration. This All-Terrain Vehicle is a single seat youth model that is designed to give kids the joy of driving while providing safety features. This awesome vehicle is decked out with LED lights, safety nets and front and rear suspension. Robert and Justin also gifted Peyton a helmet that matches the vehicle and an awesome outfit to wear while driving! What an extraordinary gift for Peyton!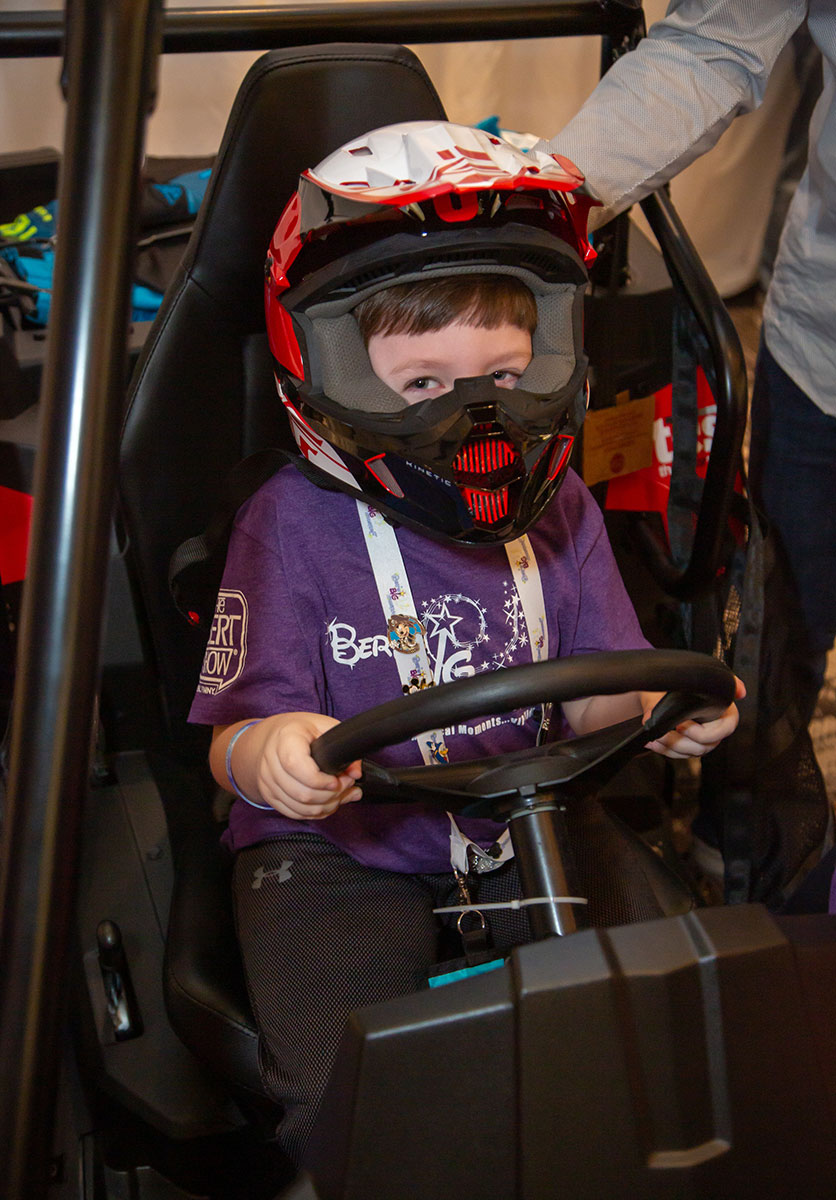 Peyton's family was in the middle of a live on-air interview with the cast of The Bert Show when Spiderman and Thor rode the ACE 150 out from behind a white curtain. As soon as Peyton saw the vehicle and realized that it was for him, he immediately burst into tears. He was speechless. His dreams of helping his dad on the family farm and feeding his goats were coming to fruition. His dad placed Peyton in the ATV and truly, he didn't leave his seat for the next three hours! We almost had to force him on to the plane to Walt Disney World… almost. His new vehicle, that was so graciously donated by Mountain Motorsports, will not only give Peyton the ability to participate in activities with his friends but more importantly, it will give him the freedom to go wherever he wants to go. His wheelchair or his diagnosis will no longer hold him back from experiencing some of the freedoms that he so desperately yearns for.
When Peyton's family returned from Walt Disney World, our generous and long-time sponsor Mike Wilson, picked up the vehicle and delivered it to Peyton's house. The abundant joy on his face during his first adventure in his new vehicle was priceless. A huge thank you to Mike Wilson and his team at Eco Tech for transporting the vehicle to the send-off celebration to surprise Peyton and for delivering it to Peyton's home after we returned from Disney. We are so grateful for all of our wonderful sponsors and special friends that go above and beyond for our Bert's Big Adventure families! Our deepest thanks to Mountain Motorsports, Eco Tech Carpet Care and The Color Spot!