An Unforgettable Proposal for the Sims Family
*By Karina Antenucci at Message Sprout
Jessica Sims was only on her second date with her boyfriend Brandon Moreno when she had to rush to the hospital for her daughter Haven. Instead of heading for the hills, Brandon asked if he could go along with her and provided a source of calm comfort for not only Jessica, but also Haven, to whom he sang.
"Out of this 6-foot-5 nerdy man came this angelic voice," recalls Jessica of the touching moment.
A single mom, Jessica juggles a full-time job with maintaining a home in Jasper and taking Haven to around 35 doctors' appointments each month. Haven, who her mom describes as having a big personality and upbeat attitude, has VACTERL association, which is a rare disorder that affects many body parts, including the spine, heart, veins and arteries, limbs, kidneys and brain. The 8-year-old also has hearing and vision impairment and mobility issues with malformed feet. Despite her challenges, her mom makes sure she attends school and goes on fun outings.
"As long as it's not getting worse, we're good. I don't go to the doctor hopeful it will be better, I go hopeful they tell me it's not worse…," Jessica said in an interview with Pickens County Progress.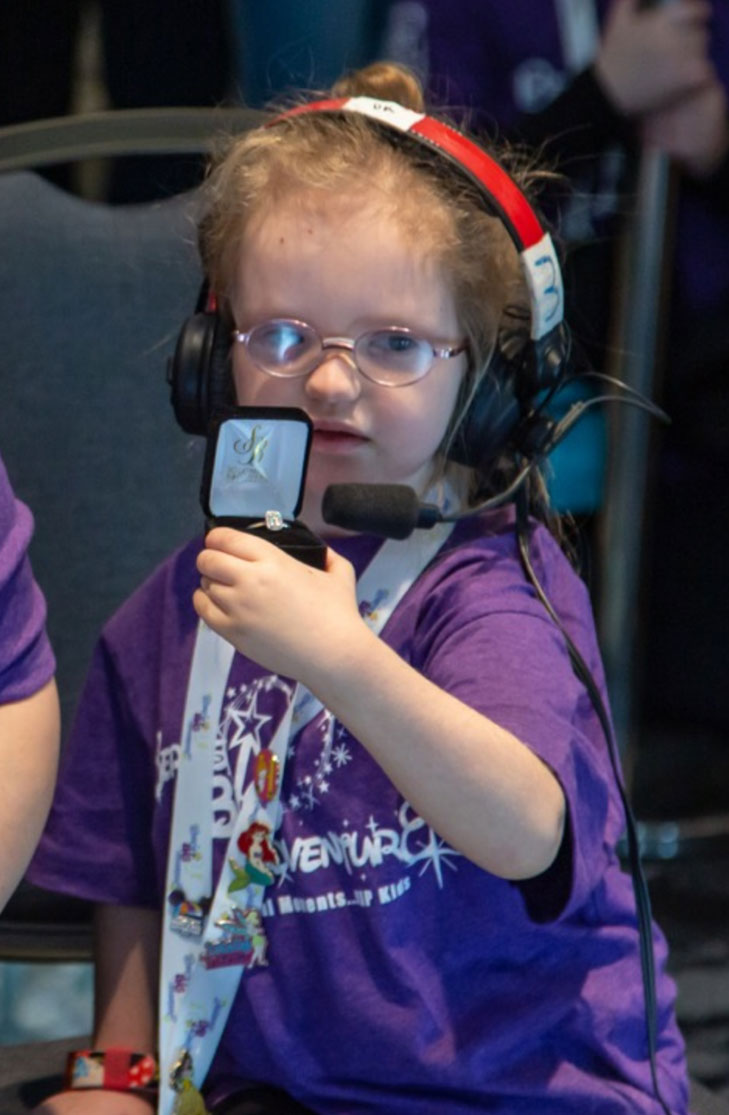 Brandon, who has three children of his own, fell head over heels for the selfless mother and her sweet girl. "I'm her world; she's my world. There's no doubt about it," he says of his and Jessica's blossoming relationship and love for one another.
Brandon couldn't think of a better time to propose to Jessica than during the 2019 Bert's Big Adventure annual trip to Disney and shared the exciting surprise with the Bert's Big Adventure team.
"When we found out that Brandon's mom had offered to sell her wedding ring in order to give him the money to buy a ring for Jessica, we shared the story with Jaron Solomon, president of Solomon Brothers Fine Jewelry in Buckhead. Jaron immediately offered the generous donation of a gorgeous, $5,000 custom ring for Jessica, making the proposal even more special," says Bert's Big Adventure's Founder and Host of "The Bert Show," Bert Weiss.
When Brandon got down on one knee and proposed, Jessica immediately said… "No!" But she was just kidding, and followed with "of course I will"! Haven curiously reached for the ring and declared that she wanted to show everybody, stirring laughter from the room of teary-eyed onlookers.
To really put the icing on the cake, Sandals Resorts kindly donated yet another big surprise for the happy couple: a 4-day, 3-night Luxury Included® honeymoon. Brandon and Jessica can choose from 16 sparkling Sandals Resorts with properties in Caribbean locations such as Jamaica, Antigua, Saint Lucia, the Bahamas, Barbados and Grenada. Because Sandals Resorts offers more quality inclusions than any other resorts on the planet, their romantic vacation will feature deluxe accommodations, all meals including gourmet dining, premium brand beverages, daily and nightly entertainment, an array of land and watersports including snorkeling and scuba diving for certified divers and more! The stay also includes all gratuities and transfers to and from the resort-designated airport. At Sandals Resorts, love is all you need!
What an incredible new chapter for a most-deserving family.
Watch the proposal go down and find out what Haven asked for right afterwards!