We are heartbroken to share the news that Braxton Dollar, 6 years old, passed away on Sunday, June 3rd, after his diagnosis of Diffuse Intrinsic Pontine Glioma (DIPG). DIPGs are highly aggressive, cancerous brain tumors found in the brainstem. Braxton went to Walt Disney World with Bert's Big Adventure in 2018.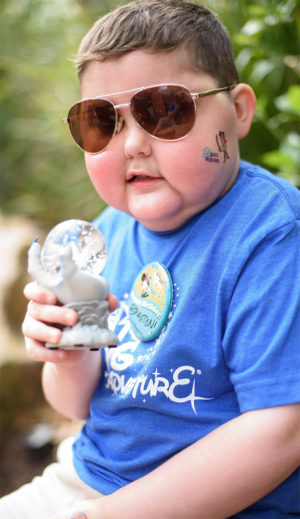 The Carrollton, Georgia, boy's battle with DIPG, as shown on the Facebook group "Battling for Braxton," inspired many to follow his journey. It was on this community page that the family wrote, "Our hearts are completely shattered! Braxton left his broken body and went to heaven to be with Jesus this evening at 9:25 pm. He passed in a peaceful sleep while surrounded by family. #battlingforbraxton #dollarstrong #BraxtonLeviDollar #standingonfaith."
Braxton told Bert's Big Adventure he loved country music, John Deere, Monster Jam, and the Disney Pixar's movie, Cars. In particular, he loved the character Mater. But most of all he loved being with his family.
"Braxton and I shared countless moments on this trip that will be imprinted in my brain forever. He had such positivity, and that positivity seemed to help fuel him and keep him going for those five days in Disney–he was the life of the party! One of those memories was at the grand finale of the trip, our dance party. Confetti comes down from the ceiling while the last song of the night is playing. All of a sudden you see Braxton hurrying to the dance floor, and he lies down on his back and starts making snow angels in the confetti. Then he started stuffing his pockets with confetti to take it back to his hotel room to enjoy later on. It was such an awesome moment," said Bert Weiss.
Please keep this family in your thoughts and prayers as they grieve the loss of this sweet and loving child.