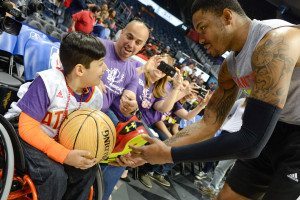 The Atlanta Hawks joined forces with Bert's Big Adventure to help make a young basketball fan's dream come true with an opportunity of a lifetime. Eleven-year old Raynel Granell-Lopez of Powder Springs, Georgia, suffered from a brain injury after being diagnosed with bacterial meningitis when he was four years old. Thanks to the NBA team, Raynel not only received his very-own competitive sports wheelchair allowing him to live out his dream of playing basketball, but also provided him and his family a VIP evening with the team.
On Tuesday, April 5th, Raynel and his family joined the Atlanta Hawks at Philips Arena, kicking off an evening of festivities with a warm welcome from the Atlanta Hawks cheerleaders at the official players' entrance. Raynel was gifted with a personalized jersey and later participated in a private basketball lesson from David Snowden and Fox Sports Southeast-Live Studio Analyst Mike Glenn on the Atlanta Hawks practice court.
Raynel enjoyed court side access to the pre-game shoot around where he received a basketball and shoes that were later signed by the NBA players. The evening also included a private locker room tour and a special introduction to the team as he was announced as the 6th man for the game and guest of honor during the starting line-up. Raynel was able to provide some extra luck to the team, leading them to a victory over the Phoenix Suns 103-90.
Raynel was chosen to be one of 13 children who took part in this year's annual trip to Walt Disney World® as a part of Bert's Big Adventure. He was surprised with the unique opportunity during the organization's Big Send-Off party hosted by The Bert Show which included a live broadcast of the nationally syndicated morning radio show, Disney characters and surprises for the children, with the ultimate goal of creating magical moments for these deserving families.
Thank you to the Atlanta Hawks, The Bert Show and Eagle Sports Chairs for making this possible!



Hover over the pictures and use the arrow buttons to scroll through them. Photos courtesy of Kat Goduco.
Check out #BBA2016 kid Raynel practicing dribbling in his new Eagle Sports Chair with the @ATLHawks! pic.twitter.com/LoEhFzyeMZ

— Bert's Big Adventure (@bertsbigadv) April 6, 2016