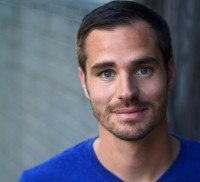 The Bert Show's newest cast member, Brian Moote, brought his one man stand-up comedy show to Charleston, SC last weekend with 100% of proceeds going to Bert's Big Adventure!
Already in town to take part in the Insane Inflatable 5K at Middleton Place Plantation for 95SX, Brian announced the surprise benefit show and filled Charleston's South Broadway Theater to capacity.
Dedicated fans formed a line outside in the pouring rain before the doors opened, many of whom donated more than the price of admission when they found out they were helping Bert's Big Adventure.
A seasoned veteran of stand-up comedy for over a decade, Brian has performed everywhere up and down Hollywood's famed Sunset Strip to New York City's legendary Comedy Cellar. Brian's unique brand of topical humor played well to his Charleston fanbase.  Nothing was off limits, including his marriage to his wife, singer Katie Waissel, who was also in the audience with their dog, Norman.
Their playful banter led into an informal Q&A where Brian hilariously interacted with the crowd. After over an hour of laughs, Brian, Katie & Norman stayed after to talk and take pictures with every fan who waited.
Having worked with special needs kids in the past, Brian knew he wanted to help Bert's Big Adventure right after he started on The Bert Show. How cool that he used his day off in Charleston and his stand-up comedy skills to make it happen! Good times had by good people for a good cause: doesn't get much better than that. Thanks Brian, and a special thanks to our 2016 Bert's Big Adventure family The Boozers for coming by to help out, too!
Guess what?! Brian Moote is hosting another stand-up comedy show in Atlanta on Wednesday, April 27th, at the Punchline Comedy Club! Click here to get your tickets before the show sells out!  (100% of ticket sales benefit Bert's Big Adventure!) 
Written by: "Magical Moments" Magazine writer, David Crawford.