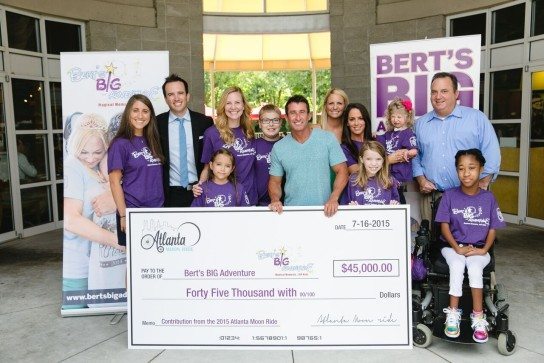 On Friday, June 19, 2015, nearly 4,000 people of all ages from across Atlanta participated in the third annual Atlanta Moon Ride – it raised $45,000 for Bert's Big Adventure!
The first night-cycling event of its kind to be introduced to Atlanta, the Atlanta Moon Ride is a 6.5-mile bike ride through some of the city's coolest neighborhoods. Established in 2012, the Atlanta Moon Ride allows bike enthusiasts to ride at night without having to battle traffic.
The festivities began at 6 p.m. in Piedmont Park, kicking off the fun-filled evening with live entertainment from Ruby Velle and the Soulphonics, delicious food options from The Fry Guy, Burger ATL, Tikiz of Cobb County and Tex's Tacos and a variety of premium drinks from ShockTop and Deep Eddy vodka.
As riders got ready to hit the streets, the energy and enthusiasm from the riders turned the dark evening into a bright night with a sea of glowing gear. Kicking off the ride at 10 p.m. were riders in neon outfits, glow sticks and colorful costumes, making the ride an exciting spectacle for all.
The 6.5-mile ride, which started at Piedmont Park, took riders through some of the city's coolest and most scenic neighborhoods including Virginia Highlands, Little Five Points, Inman Park and finished on the East Side Beltline Trail. The ride was both fun and safe, thanks to the Atlanta Police Department riding alongside bikers and regulating traffic.
One hundred percent of the proceeds from the night went directly to Bert's Big Adventure!
A special thanks to Adam Davila Photography and Joseph Wong Photography for these pictures!