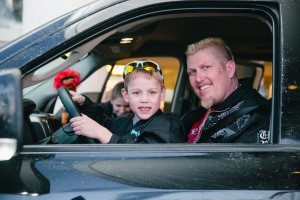 When we started our conversations with Bert's Big Adventure 2015 child Evan, we immediately learned that Evan LOVES the TV show "Lizard Lick Towing." He loves the show so much that when we asked Evan what he wanted to be when he grows up, he said he wants to be a tow truck driver!
We thought it was a long shot, but we called "Lizard Lick Towing" to ask if they'd be willing to help us make Evan's dreams come true.
Ron Shirley, the owner, called us back right away and was willing to help in any way that he could! Ron brought one of his famous trucks parked TO the hotel and took Evan for a ride!