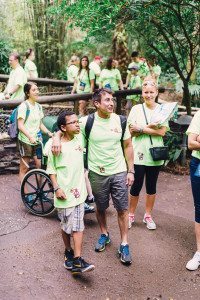 Our Bert's Big Adventure family is deeply saddened to inform you that Anthony Spann-Pack (BBA 2014) passed away yesterday, April 8, 2015. As many of you know, he has been battling neuroblastoma, a rare type of childhood cancer that develops in infants and young children. We are relieved to hear that he passed away surrounded by family.
"The thing that we remember the most was Anthony's strength – emotionally and physically. Our most vivid memory of Anthony from the 2014 trip to Walt Disney World was him giving piggy-back rides to the staff members. He loved Goofy, WWE Wrestling and cooking. During this difficult time, please pray for peace and strength for his family; mom, Juliana; dad, Theo; sister, Jeanette; and brother, Nathan. Bert's Big Adventure will always remember Anthony for his strength and smile. We will miss you, Anthony." – Stacey and Bert Weiss
Funeral arrangements have not been made at this time; however, we will share those details with you as soon as we have them. If you are interested in supporting the family, they have asked that donations be made to Bert's Big Adventure in Anthony's memory.
Please keep this family in your thoughts and prayers.
To see more of Anthony's happy time in Disney on Bert's Big Adventure through photo and video memories, just click here.