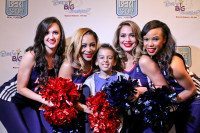 Bert's Big Adventure kid Lake was scheduled to go on this year's Bert's Big Adventure trip to Walt Disney World, and then bad luck struck on the DAY he was supposed to leave on the trip…Lake had an incident, and wasn't able to come on the trip.
Well, Lake's dream is to be an NBA player, and at Bert's Big Adventure, we're in the business of making dreams come true.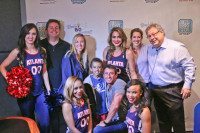 So Steve Koonin – the Owner / CEO of the Atlanta Hawks – came in studio with Harry the Hawk and a bunch of Hawks cheerleaders to give Lake a very special surprise: he's going to be OFFICIALLY signing a one-day contract with the Hawks! He even made it into Bleacher Report!
#Hawks Owner/CEO @SteveKoonin surprised @bertsbigadv kid Lake – he's becoming the @ATLHawks NEWEST OFFICIAL PLAYER! pic.twitter.com/AoZo7DsLI5

— The Bert Show (@TheBertShow) April 6, 2015
We just pulled up to @bertsbigadv kid Lake's house in a GIANT @ATLHawks bus! SURPRISE TRIP TO THE STUDIO! pic.twitter.com/KoOvOJPMkq — The Bert Show (@TheBertShow) April 6, 2015
Meet the official newest member in the roster of the @ATLHawks: #BBA2015 kid Lake B.! #Hawks pic.twitter.com/YE9qt0t6m2 — Bert's Big Adventure (@bertsbigadv) April 6, 2015
ROSTER UPDATE: @SteveKoonin just announced on @TheBertShow that we'll sign Leukemia patient Lake to a 1-day contract. pic.twitter.com/n2DI4blUtP

— Atlanta Hawks (@ATLHawks) April 6, 2015