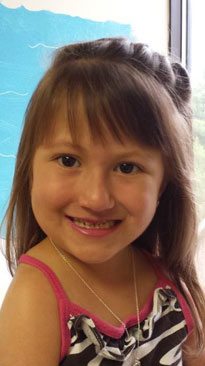 Meet 5-year-old Zailey A. from Mooresville, IN! Zailey has Arthrogryposis Multiplex Congenita (AMC). She loves "Frozen" (Elsa is her favorite Disney character) and Taylor Swift (her favorite song is Taylor's "Blank Space"), the colors pink and purple, and loves cheerleading – she wants to be gymnastics coach when she grows up!
Zailey's most looking forward to the plane ride and meeting princesses at Disney!
Don't forget to follow the trip next week using the hashtag #BBA2015 on Twitter, Facebook and Instagram!