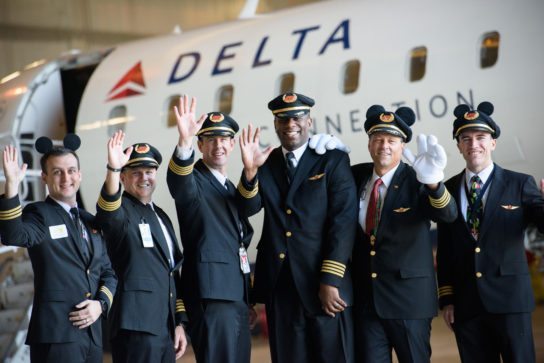 ExpressJet rolls out the red carpet for Bert's Big Adventure's VIP kids each year by providing an exclusive private jet to and from Walt Disney World®. New Chief Operating Officer Terry Vais says the heart of this long running partnership permeates everything at the Atlanta-based airline.
"ExpressJet prides itself on having a culture that emphasizes giving back. We are honored to partner with Bert's Big Adventure each year because it allows our team members to do just that. We have supported Bert's Big Adventure all 14 years and everyone still gets genuinely excited about welcoming and interacting with all the amazing children and their families."
ExpressJet also decks out the private hangar for the send-off and welcome back parties each year with Disney characters, superheroes, and hundreds of their employees to raise the excitement. This year's flight crew even donned Mickey Ears with their uniforms! COO Vais—a veteran of the airline industry—explains why giving to Bert's Big Adventure remains a priority.
"Team members from all across the country have the opportunity to bring a little joy to the faces of families that are going through a very tough time in their lives, and that couldn't make me more proud. We are honored to help facilitate this vacation to remember for those who need it most!"
Headquartered in Atlanta, ExpressJet is led by a team of talented aviation professionals who are invested in empowering the front-line staff to make a difference.