Bert's Big Adventure is Destiny: A Letter to this Year's Families
My name is Lisa Walker and last year, 2017, my family went on Bert's Big Adventure's annual trip to Walt Disney World. I'm honored to welcome all of the newcomers to this amazing family! You can stop worrying: Bert's Big Adventure truly thinks of everything in their preparation. This is the one week you never thought was possible. Don't even feel like you should clean the table—they got it. It's in their hearts to do this for you. They spent the entire year planning this for you, and they are there to serve you wholeheartedly.
I'm sure by now you have enough information about this magical trip, but let me assure you that being in the Bert's Big Adventure family is so much more. My child, Destiny, was born with severe craniofacial clefting. She was missing a lot of facial bone in her left eye. She encountered so much negativity from people because she looked different; She would clam up if someone approached her. When we were preparing for our Disney trip, I was also seeking counseling for her. To my surprise, I saw the introvert in Destiny begin to diminish at just our 2nd encounter with Bert's Big Adventure during our trip orientation.
She played in the kitchen at the Children's Museum of Atlanta, serving plastic waffles and fake coffee to total strangers. As I sat there in awe, she came around the corner on David's back. Who was this child? Where did she come from? She was in public acting like she was at home. I then realized that she was at home. She accepted Bert's Big Adventure as real family. So do I.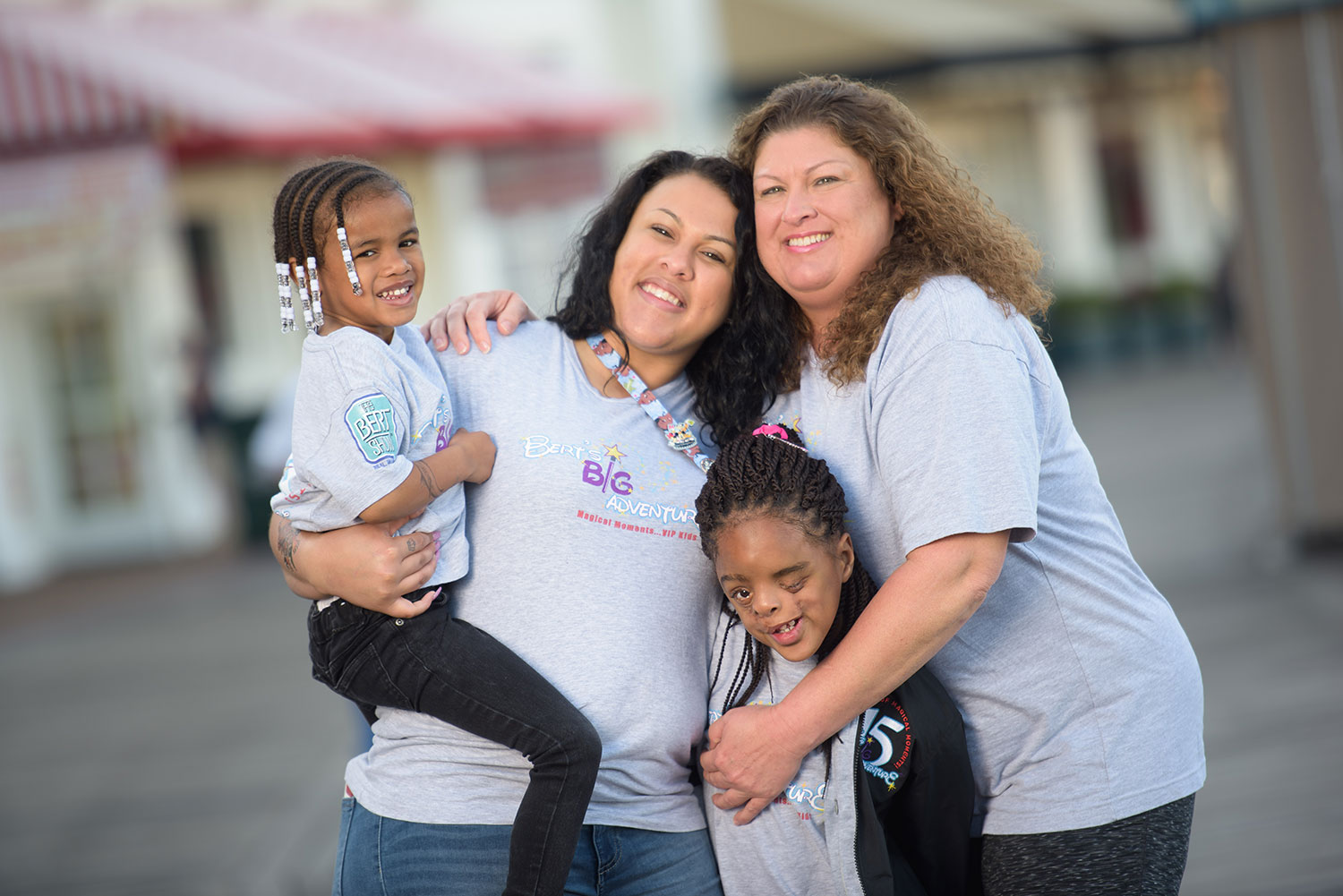 "I realized during the trip that I'd also become introverted by avoiding public crowds to protect Destiny."
I realized during the trip that I'd also become introverted by avoiding public crowds to protect Destiny. It wasn't long before I was on the dance floor as well. I still get happy feet whenever I hear Justin Timberlake's "Can't Stop the Feeling." Wear comfortable shoes because you will literally walk all day and dance all night.
Once Destiny returned to school, her teacher had already shown the class some YouTube videos of our trip. So now both Bert's Big Adventure and her school treat her like a celebrity. Most importantly, Destiny treats herself like one and counseling is no longer a need. That alone has been more than magical to us.
This is so much more than a trip. There are four reunions a year where families from all past years get together. We met another family at a family reunion adventure who had similar struggles getting a prosthetic eye. They referred us to the world's best ocular plastic surgeon in Philadelphia. We would've never made this connection without our extended Bert's Big Adventure family.
Many of us hear the word "different" often used as a descriptive word for our children, but it's the perfect word for Bert's Big Adventure. They are different because they are humanity in a society that often forgets that different is beautiful.