When 2022 Bert's Big Adventure kiddo Stella was just 4 years old, she suddenly went from a healthy, vibrant, vivacious child to moody and not the same sweet kiddo her parents knew her to be. Within only six short weeks of her initial mood shift, aggressive symptoms developed very quickly, and her parents took her to see her pediatrician. On her last day of school, Stella was diagnosed with acute lymphoblastic leukemia (ALL), started chemotherapy treatment almost immediately, and her family's lives changed forever.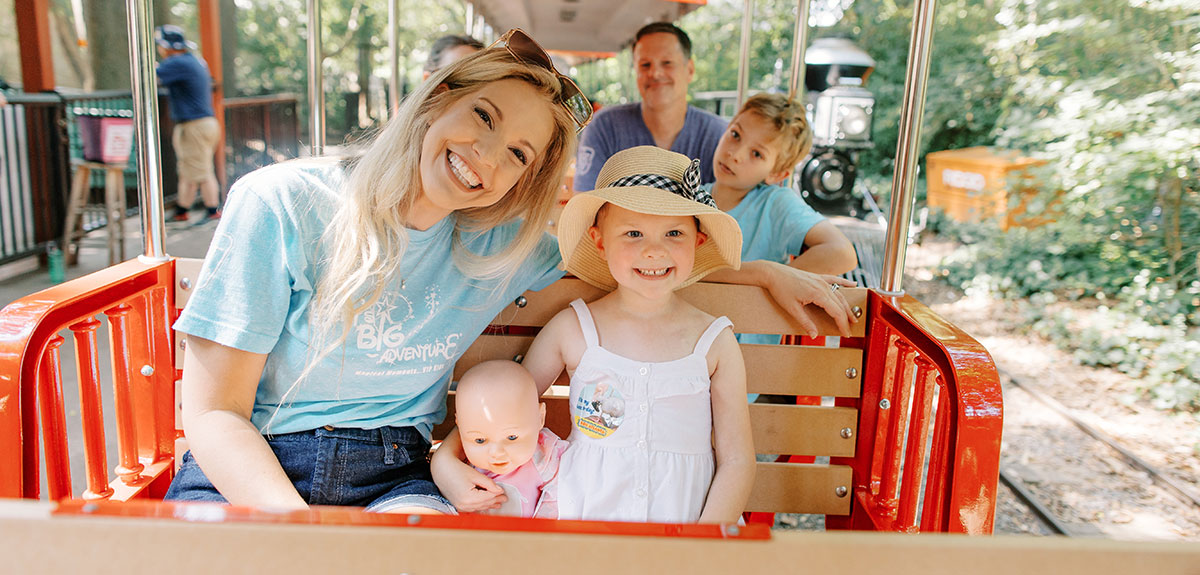 When Stella grows up, she dreams of becoming a veterinarian (and a mom, too)! Our friends at Crisp got wind of this incredible kiddo's intense connection to animals and wanted to make an unforgettable experience happen for her. The day before Stella's sixth birthday, Stella, along with her parents, brother, three friends, and Stella's The Bert Show bestie Kristin Klingshirn, received VIP treatment at Zoo Atlanta, courtesy of Crisp.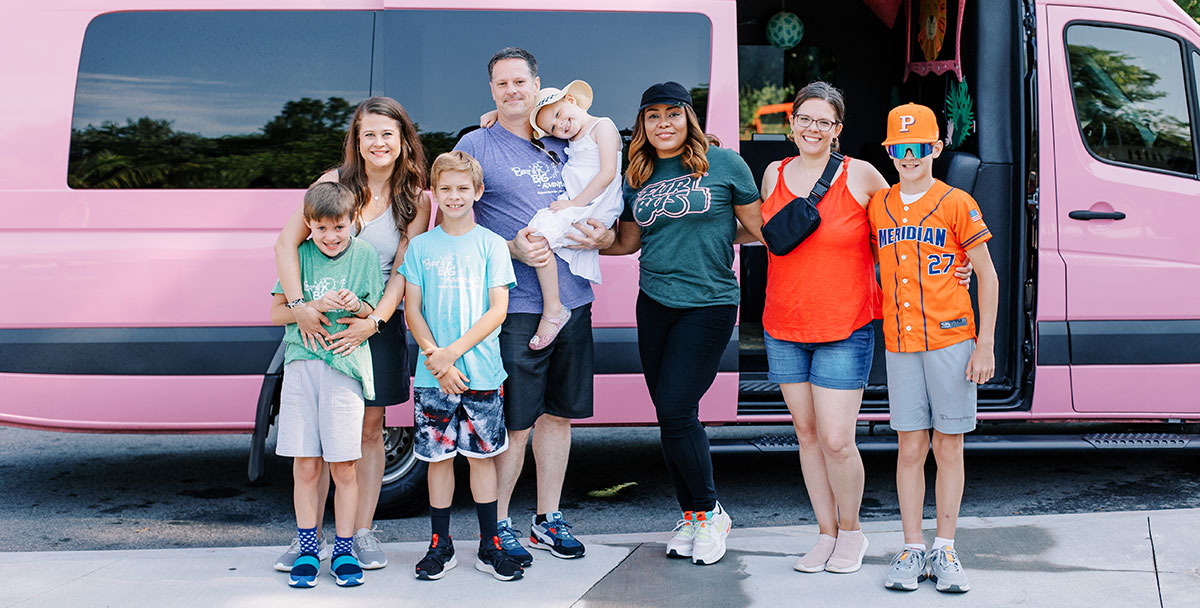 The "wild" experience began with transportation to the zoo by the Fur Bus, a stylish pink bus decked out in faux fur, in keeping with the animal theme! Once they arrived at Zoo Atlanta, a dedicated Education Guide was assigned to Stella's group to provide fun facts, insider info about the animals and VIP views throughout their visit.
In addition to all the typical zoo fun of seeing the animals and riding the carousel, Stella got to be a part of several unique behind-the-scenes experiences, such as the once-in-a-lifetime Giant Panda Wild Encounter, where Stella met and fed one of the pandas, met the keepers, saw the panda building and learned more about these amazing animals.
Zoo Atlanta is one of only three zoos in the U.S. housing giant pandas, so the chance to see them is rare, and the chance to meet one is nearly impossible (unless you're a VIP kiddo!). She also got up close and personal to one of the zoo's alpacas and watched one of the Outback Station's goats get a hoof trim as a regular part of his regular care.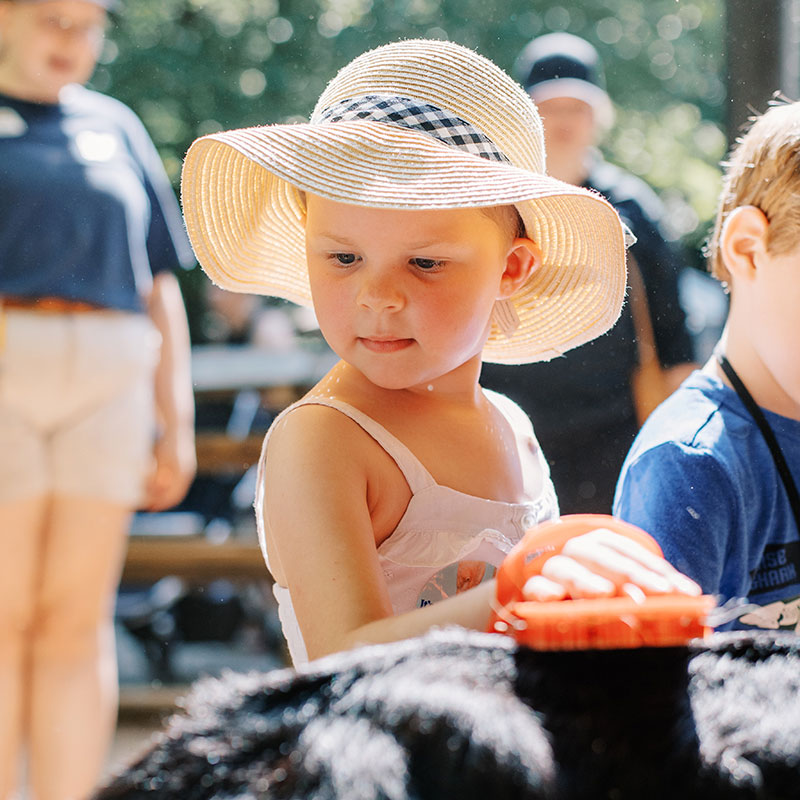 Stella also participated in a Veterinary Tour that included meeting one of the Zoo Atlanta veterinarians to learn about what they do and touring the M.S. Silberman Diagnostic Center, complete with a show-and-tell of the innovative equipment the zoo's vets.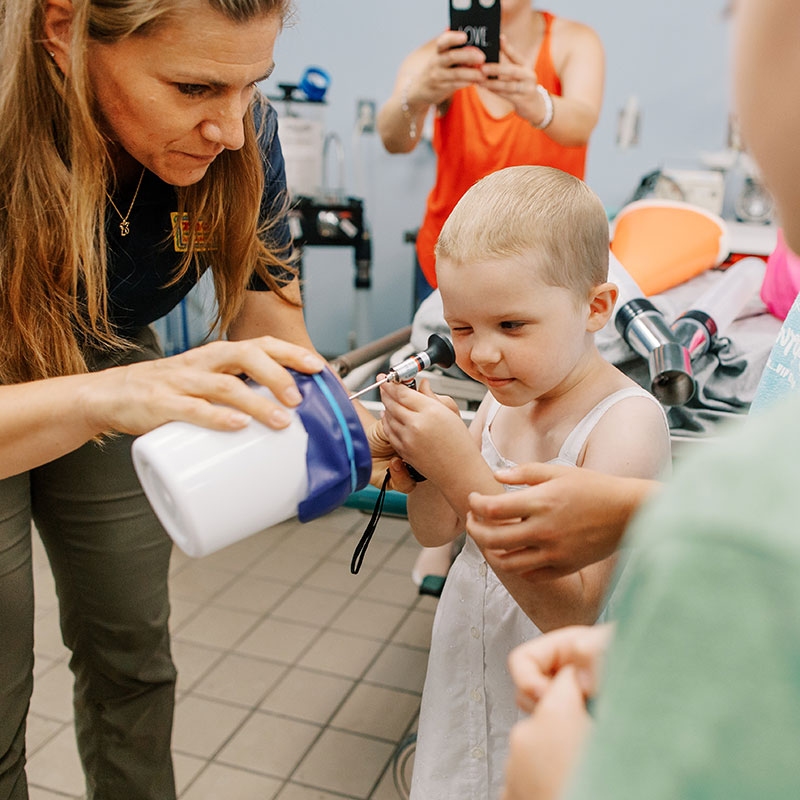 Along with caring for the animals, Zoo Atlanta is a conservation organization with programs and partnerships to help wildlife around the world. So during her visit, Stella learned more about how to help save animals in the wild. For a true animal lover, this only increased her passion for our furry friends!
Amidst the vet-tastic fun, Stella and her crew enjoyed a delicious lunch at Nourish Café, provided by Zoo Atlanta.
The icing on the cake was that Crisp sent one of their professional video crews along with Stella and her crew, and they captured the whole experience!
Cue: big smiles and memories that will last forever!
A big thank you to Dash Photography/Amanda Coker for taking the beautiful photos!
Our deepest thanks go out to Crisp and Zoo Atlanta for making unforgettable moments happen for Stella!
More about our amazing sponsors:
Crisp: Crisp helps law firms generate unprecedented growth by equipping them with world-class video marketing and the industry's top leadership and management coaching program. In November 2021, our friends at Crisp hosted the Game Changers Summit 3, the largest law firm growth conference on Earth! Thanks to donations from Summit attendees, as well as 100 percent of the proceeds from all Crisp swag sold at the event, they were able to graciously raise $100,000 for our precious Bert's Big Adventure kiddos and their families. And they are gearing up for the Game Changers Summit 2022!
Zoo Atlanta: Zoo Atlanta is home to more than 1,000 animals from around the world. It includes one of the largest populations of gorillas in the U.S. and a new African Savanna featuring habitats for elephants, giraffes, zebras, ostriches, warthogs, meerkats and southern white rhinos. In addition to providing superior care for the many animals who call the zoo home, Zoo Atlanta is a conservation organization with programs and partnerships helping wildlife around the world. Zoo Atlanta's veterinarians are an outstanding team of experts providing care for everything from the zoo's largest elephant to its tiniest tree frog.
Help us create more experiences like these for Bert's Big Adventure kids!